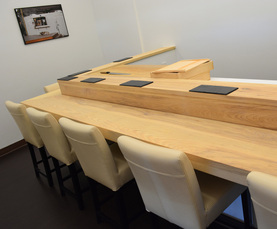 Kyōten (kee-oh-ten) translates to "the edge of the sky". It was first conceived as a sushi trailer, hence the theme of eating under the sky. Kyōten Sushiko approaches sushi as a discipline with three core values: purity, harmony, and balance.

Fish are sourced predominantly from Japan and finely tuned through technique. Various methods of aging, curing, and marinating are used to create depth, complexity, and umami. Fish is served when it is at its best, not necessarily at its "freshest".

The most important component of sushi is shari (sushi rice). Japonica short grain rice is cooked under pressure and then cut with a blend of akazu, red vinegar fermented from rice and sake lees. The character of the rice is grounded in Edomae tradition, yet has its own unique, modern taste. The flavor is complex, bold, and very acidic so that it compliments fish without the need for excessive sauce or garnish.

Sushi is about creating a harmonious experience between the unity of fish and rice. Omakase at Kyōten Sushiko delivers sushi in an intimate setting that seats only 8 persons at a time at the sushi bar. It is a sushi experience that competes on the world stage.

---
---


Otto Phan first learned his craft under Tatsu Aikawa and Tako Matsumoto, before the two opened Austin's celebrated restaurant, Ramen Tatsuya. He later traveled and worked in various other restaurants including Nobu NY/Nobu 57, Masa/Bar Masa, and Uchi/Uchiko.


---